Rainbow Beach Camping Grounds provide information in regards to camping at Rainbow Beach, Inskip Point and Fraser Island.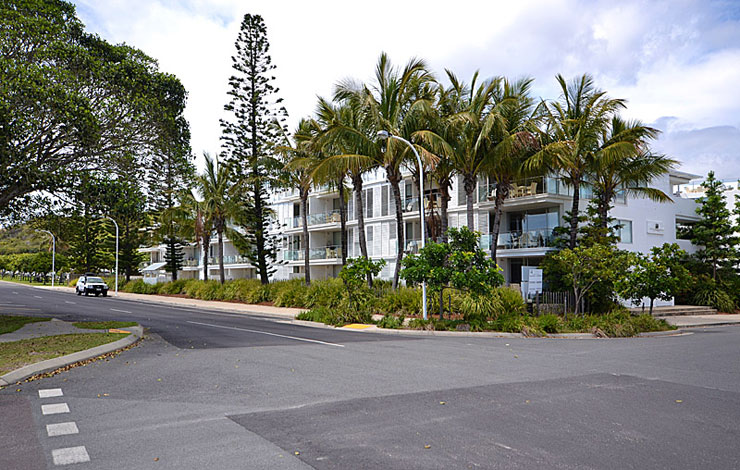 Rainbow Beach Camping Grounds
Rainbow Beach is a GREAT place for a camping holiday.
The beauty and pictureque nature of Rainbow Beach lends itself to a great place for camping.
Set on the edge of the rainbow coloured sands, Rainbow Beach has some of the most amazing natural attractions found nowhere else in the world.
Rainbow Beach is situated in the Cooloola Region and can be reached from Gympie.
Camping Grounds Rainbow Beach
There are camping grounds located at Inskip Point, Freshwater, Poverty Point and Teewah Beach. Also, camping is available at the caravan parks in Rainbow Beach.
Rainbow Waters Holiday Park
Rainbow Waters Holiday Park is a great place for camping.
Located down Carlo Road Rainbow Beach, it fronts onto the waterside of Carlo Point. It is a great place for fishing and recreational boating.
Rainbow Waters Holiday Park is situated on 23 acres of shaded waterfront sites with 2 bedroom villas, 2 bedroom ensuite cabins, ensuite cabins, park cabins, powered sites and unpowered sites.
There is caravan and boat storage, unlimited tent and powered caravan sites, separate games and TV rooms, shop and gold phone and coach and tour groups.
Rainbow Waters Holiday Park is definitely worth a look. You can contact them on 07 5486 3200 for further information.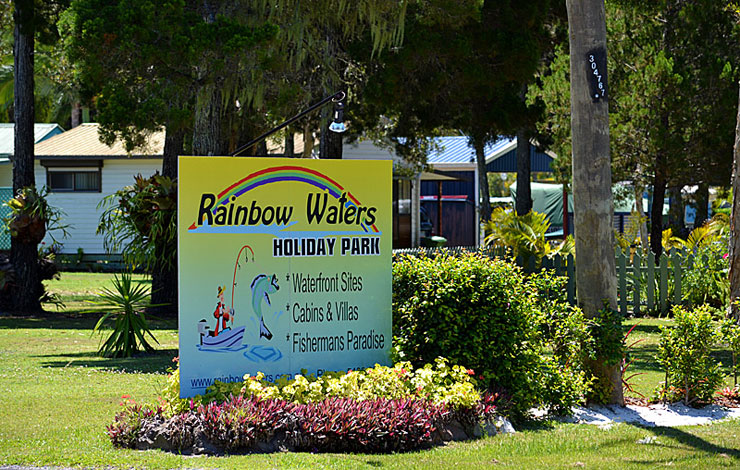 Rainbow Beach Holiday Village
Another great camping spot is Rainbow Beach Holiday Village.
When you drive into Rainbow Beach Township, you will find Rainbow Beach Holiday Village on the right hand side of the street overlooking the Pacific Ocean.
Rainbow Beach Holiday Village offers three types of self-contained accommodation – villas, chalets and olympic villas. Of course, there are caravan and tent sites over-looking Rainbow Beach.
One-bedroom villas offer idea accommodation for one couple. Two-bedroom chalets offer accommodation for families (5 people) with air-conditioning, queen-sized bed, one single and double bunk. Olympic villas are close to the swimming pool with air-conditioning, spa bath. Olympic villas are two bedrooms with queen-sized bed and a double bunk.
For more information, call 07 5486 3222.
If you prefer luxury units, check out Rainbow Beach accommodation by clicking the following link – Rainbow Beach Accommodation.
Inskip Point Camping Grounds
Inskip Point has several areas for your camping holiday.
Set up your camp at Inskip Point and enjoy the beauty of the sand, sea and surf.
To book your campsite at Inskip Point, call the Department of National Parks on 13 74 68 during normal working hours (8:30 am to 4:30 pm Monday to Friday – public holidays excepted).
You can check out other things to do at Rainbow Beach Adventures by clicking on this link – Rainbow Beach Adventure.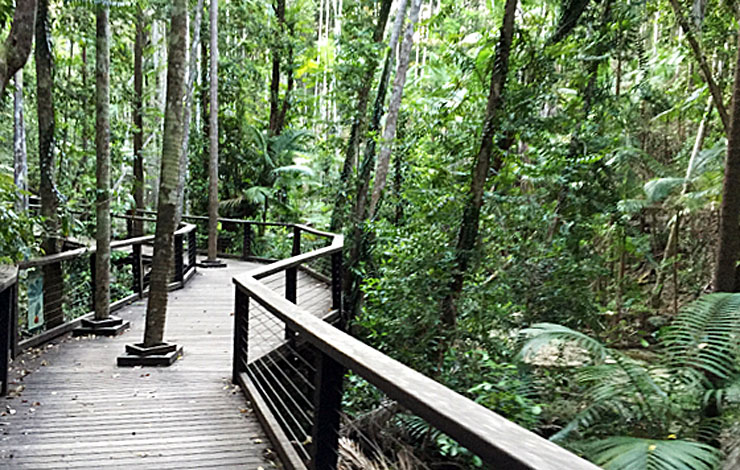 Discover Fraser Island
Discover the best of FRASER ISLAND while holidaying at Rainbow Beach.
You can stay on Fraser Island at award-winning resorts or national park camping grounds. There are camping grounds at Cathedral Beach with cabins and camping sites or you can stay at apartments, guesthouses, or beach houses at Happy Valley, Eurong, or Orchid Beach.
Fraser Island is the largest sand Island in the world. It is home to untouched freshwater lakes and creeks with some of the world's rarest dune lakes. Its lakes and surrounding ocean is home to tortoises, turtles, dolphins, dugongs, and humpback whales during migration – late July to early November.
The flora and fauna on Fraser Island is breath-taking. You can enjoy all this by taking a Fraser Island Exclusive Tour.
Book your Fraser Island Tour now – Fraser Island Tours.
You may want to discover Fraser Island in your own time. Fraser Island 4WD hire is for you – Fraser Island 4WD hire.
Rainbow Beach Camping Grounds Maps