Rainbow Beach Adventure
If you are the adventurous type, Rainbow Beach Holidays has the adventure for you.
Paraglidging or Hang Gliding
If you like EXTREME ADVENTURE, then you must take the opportunity to soar like a bird and participate in the world of paragliding or hang gliding from Carlo Sand Blow.
Rainbow Beach is one of the top sites in Queensland to experience your first adventure in paragliding or hang gliding. Carlo Sand Blow is a safe environment to experience the adrenalin pumping adventure of soaring like a bird. Stop talking about it and come and experience this extreme adventure.
For more information on paragliding call 0418 754 156 or hang gliding call 0408 863 706.
Skydiving Rainbow Beach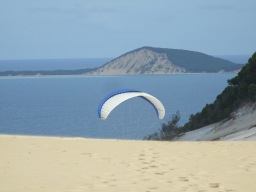 Skydiving Rainbow Beach is another adrenalin seeking experience for the adventurous type. Tandem skydiving is a huge challenge but also an enjoyable experience. You will need to put your trust in the expert tandem masters who will assist you in this adventure.
If you are seeking an adrenalin rush, then tandem skydiving is for you. For more information call 0408 863 760 or click on Skydive Rainbow Beach.
Scuba Diving Rainbow Beach
You may want to participate in world class SCUBA DIVING.
Wolf Rock is ideal for multi-level scuba diving because of the formation of four volcanic pinnacles.
Wolf Rock is also one to the top scuba diving sites in Queensland. Being part of the Great Sandy Marine Park, Wolf Rock is a place where you can see the endangered Grey Nurse Sharks, the Giant Queensland Gropers and Manta Rays.
Other animals you will expect to see are: eagle rays, turtles, leopard sharks, bull rays and many more.
By the way, you cannot miss the Humpback Whale season. The Humback Whale season starts in June and finishes in late October. The Humpback Whale passes Wolf Rock on their way to the Antarctia. You can listen to the whale songs while diving or see them past by on the surface. What an amazing experience!
For more information call 0438 740 811
Rainbow Beach Activities
You may want to do something a little less adventurous. For example, there is surfing (0408 738 192), horse riding (0438 710 530), camel rides (0488 710 522), or sea kayaking (0408 738 192).
Of course, there is fishing, bush walking and bird watching.
For more information call Rainbow Beach Tourist Information Centre on 07 5486 3227.
Feed The Dolphins Tin Can Bay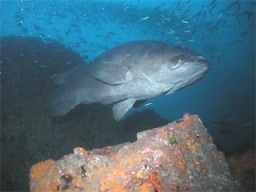 Barnacles cafe beside the Boat Ramp at Norman Point in Tin Can Bay is one of the few places where you can feed the rare Indo-Pacific humpback doliphins for a gold coin donation. Feeding starts at 8am sharp. You can call 07 5486 4899 for further details.
You can travel a little farther to Gympie to ride the world famous MARY VALLEY RATTLER.
The journey begins at the historic Gympie station and continues through the scenic Mary Valley which includes the small towns of Dagun, Amamoor, Kandanga and Imbil. The countryside is spectacular and the old rail line is amazing with and abundance of curves, gradients and bridges.
For more information call 07 5482 2750
NB The Mary Valley Rattler may not be in service anymore!