Walk All of Fraser Island
Walk all of Fraser Island and discover the beauty of this magnificient creation - rainforests, exotic plants, abundance of bird life, pristine inland lakes, sand blows, ship wrecks and some the world's greatest wonders.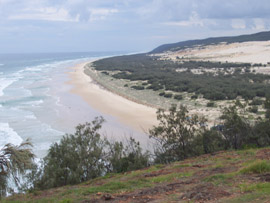 Walk all of Fraser Island is one way to discover the beauty of this magnificient creation.
There are several walking tracks on Fraser Island. They vary in length from a few hundred meters to thirteen kilometers.
You can walk the southern half or the northern half of Fraser Island.
By combining a series of walks, you can walk Fraser Island over several days.
Why walk? Fraser Island has a very diverse landscape and when you walk this landscape, it slows you down so that you can take in the beauty of the rain forest, the crystal clear freshwater lakes and the amazing sand blows with great views of the pristine beaches.
Walking Fraser Island will help you appreciate the changes between the coastal landscape of clear crystal water of the beaches to the mangrove forest and subtropical rainforest.
There is so much to see when walking Fraser Island. Experience the adventure of spotting marine widlife in their natural environment, sea turtles, sharkes, dolphines, manta rays and even humpback whales.
Here are some walking tracks for you to enjoy.
Ocean Lake Circuit (around 5km)
Dundubara Creek to Wungul (around 3km)
Dundubara to Lake Bowarrady (around 12km)
Dilli Village to Lake Boomanjin (around 7 km)
Lake Boomanjin Circuit (around 4km)
Lake Boomanjin to Lake Birrabeen (around 10km)
Lake Birrabeen to Central Station (around 5km)
Central Station to Pile Valley (around 2km)
Central Station to Lake McKenzie (around 6km)
Lake Mckenzie to Lake Wabby (around 13km)
Lake Wabby to Ocean Beach (around 3km)
People often visit Fraser Island to see the lakes. Lake Benaroon is one of the larger of 40 or so lakes on Fraser Island.
Lake McKenzie is one of the most marketed and renowned tourist destinations on Fraser Island. See the image below!
The sand here is pure-white silica and is not only beautiful to look at but feels extremely soft to walk on.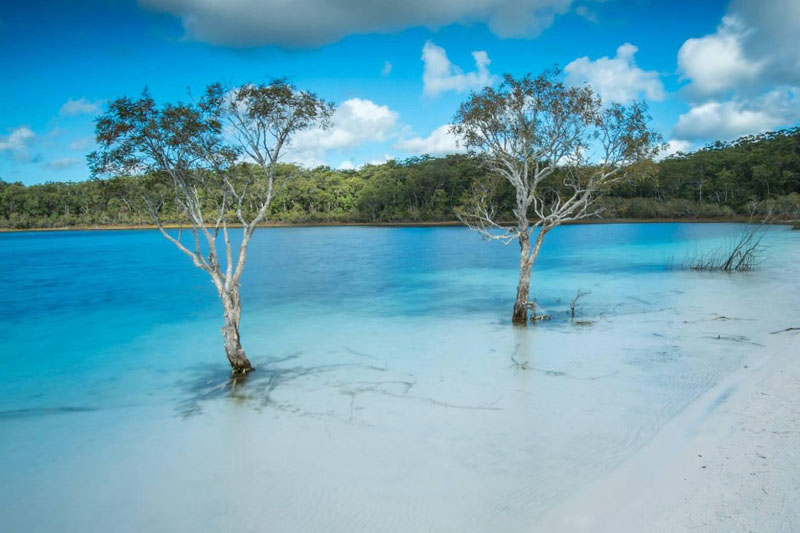 On the Eastern side of Fraser Island (see image below), you can check out the ship wreck.
The SS Maheno is little more than a rustic skeleton which remains at Seventy-five Mile Beach and is a must see for all visitors on Fraser Island.